Chinese-Indonesian Martial Arts Seminar with Joe Salomone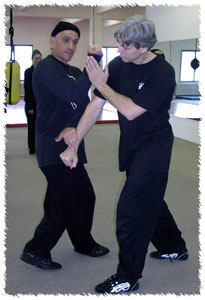 On Saturday, May 1st, Mr. Joe Salomone will be sharing this unique blend of Southern Chinese Gung Fu and Indonesian Pentjak Silat that was taught by Grandmaster Willem Reeders (Liu Seong). Mr. Salomone began his training in these internal self-defense arts in 1973 under the late Grandmaster Art Sikes. To further enhance his knowledge, he became an amateur boxer from 1977 to 1984, using his training in the ring. He was a five time Nevada State Golden Glove and ABF boxing champion, and in 1981, was selected to represent the USA in International Boxing competition while training at the US Olympic Training Center in Colorado. Mr. Salomone earned his Orange Sash in 1980, and his Red Sash in 1994. Martial artists of all levels of experience and styles are welcome at this seminar.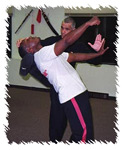 Details
When:
Saturday, May 1st, 2010
11:00 AM – 3:00 PM
Where:
Lee District RECenter Multipurpose Room
6601 Telegraph Rd
Alxandria, VA
Cost:
$50 / person, paid to Erik Harris at the seminar (not at RECenter front desk).
If you want a hard-copy advertisement, you can download this promotional flier.
Joe Salomone is among the very best martial artists I've had the privilege of working with. I've known him since 1996, and became his student in March 2005. I've met people with years more experience than Mr. Salomone whose understanding of and ability to teach martial arts do not match his. His martial arts training has clearly been among the best available, and he has an intuitive understanding of how to relate to people and teach them how to move. I truly believe that practitioners of any art can gain something from training with him, and may even learn something about their own art.
Directions
The Lee District RECenter is located within the Lee District Park, just off of Telegraph Rd, across from Rose Hill Dr. The park is just south of I-495, accessible from the Telegraph Rd exit.
The Multipurpose room is located downstairs. After going down the stairs, head down the hallway to the left. The Multipurpose room is the last room on the right just before the gymnasium. The men's locker room is between the stairs and the multipurpose room. The women's locker room is just past the stairs in the other direction.
The RECenter normally charges admission to non-members who are not registered for classes, but because this is a paid seminar event using rented space, no admission fee should be paid to the front desk, and the seminar fee should be paid to Erik prior to training.